The Proposal
Back in February 2010 I approached my good friend and jeweler, Liz, about getting an engagement ring for Mallory. We had been dating for nearly 2 years at that point, and had been talking a bit about our future together. It was pretty obvious to us (and everyone else) that we were very serious—marriage was the next step. Mallory had made it clear that she wanted a sapphire ring, and Liz was the perfect person to help me out.
Over the next few months the plans came together, and I knew Liz and myself had come up with something Mallory would love and cherish forever. Although to be fair, she'd probably be just as happy with a Ring Pop.
Mallory knew it was coming, and knew I had been talking to Liz. There were certain questions about aspects of the ring I just didn't know and needed answering (I also garnered a newfound respect for jewelers). Mallory had deduced it: I was going to propose in August.
...except she was dead wrong. She was convinced of this because in July we would attend an annual convention where Liz would also be present, so she figured I'd just get the ring in person from her. Little did she know I had the ring mailed to me months earlier.
For those unaware, Mallory spends each summer with me in Myrtle Beach (since 2009). She bought her first DSLR camera (a really freakin' nice camera for you non-tech people) in early July and was itching to get some good shots with it. There's a botanical garden not too far from my house called Brookgreen Gardens, and she decided that'd be the best place to flex her photography muscle. This was it. I had to do it. I had to surprise her.
There was never a plan. The beautiful sapphire ring had been hidden in the house, right under her nose, and she didn't even know it. The morning we decided to go to Brookgreen I grabbed the ring box, slipped it into my pocket, and we headed out the door. It was July 16th. A week later we'd be in Gatlinburg, TN, for the annual convention. Surely that's when I'd get the ring, from Liz personally.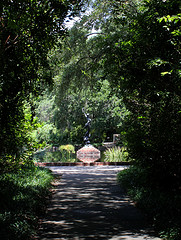 We spent the afternoon baking in the gardens (100º+ temperatures; gotta love Myrtle Beach in the summer). She snapped photo after photo, moving from one scenic locale to another, all the while oblivious to my hand in my pocket, playing with the box. She's scanning the area for photo opportunities. I'm scanning the area for proposal opportunities.
After we had been there an hour or so, nearly drenched from the immense heat, we decided it might be time to start calling it a day. Obviously I wasn't going to have come all this way to go home a boyfriend and not a fiance, so I suggested we go sit in the shade of a small, nearby garden. It was time.
I got out my pocket camera and began to film myself (this isn't out of the ordinary—read the About Us page if you're confused). Mallory wasn't at all suspicious, I had been filming all day anyway. But her demeanor changed when I pulled out a small box.
Because I film myself everyday, Mallory never suspected a thing.
I got her genuine reaction to my proposal on camera.
The speechlessness left after I asked—she said yes. Sweaty kisses were exchanged, tears of joy were produced, and many phone calls to relatives were had. She appreciated the fact I had surprised her. I'm just glad everything worked out.
One week later we arrived in Gatlinburg and were congratulated by our friends. We even saw Liz! But, at that point, the ring wasn't with her—it was already on Mal's finger.